Norma Fraser: News
This is Norma's updatable news page.
Norma will be posting news on this page including show dates, CD releases and other Fraser related facts.
Date Added
April 1, 2018, 7:19 pm
Norma Fraser at North Unpqua Music Fest July 17 18 19 2018

North Umpqua Music Fest. Norma Fraser and her roots reggae backing band.
April 1, 2018, 6:46 pm
New Website Coming!!!.
NEW WEBSITE COMING!!!!!. Hello Fans look for my new website!.
COMING SOON!.
European and USA Tour coming in 2018!. Touring with a fantastic band out of Florida!. New details coming soon!.
Bless Up!.
May 5, 2015, 3:57 pm
REGGAE IN THE VINEYARD
Reggae in the Vineyard

Dance the night away at the vineyard with Norma Fraser!

Saturday June 13th 2015 7pm.
Opening Band: The Vipers with Deb Cleveland
VENUE: DOMAINE MERIWETHER WINERY
ADDRESS: 88324 Vineyard Lane
Veneta, OR 97487
(2 miles west of Territorial on Hwy 126)
TICKETS: Purchase tickets at :
http://www.meriwetherwines.com/
HURRAY!!!. HURRAY!!!. Tickets on sale now. This popular concert is selling fast.
June 19, 2013, 1:25 pm
Aug 24 2013 Seattle, WA classic reggae show with Norma Fraser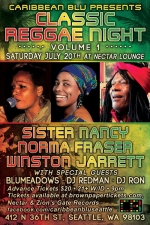 June 10, 2013, 4:29 pm
SOLD OUT! SOLD OUT! SOLD OUT!.
SUMMER SOLSTICE CELEBRATION SHOW IS SOLD OUT!!!!.

THANKS TO ALL OF MY LOYAL FANS!!!.







June 10, 2013, 3:41 pm
SUMMER OF LOVE CONCERT SERIES 2013
SUMMER OF LOVE CONCERT SERIES JULY 27 - AUGUST 24 2013!!!.


NORMA FRASER JAMAICAN REGGAE LEGEND PERFORMS!!!!.


AUGUST 24 @ 4:OOpm
DOMAINE MERIWETHER WINERY
88321 VINEYARD LANE
VENETA, OR

TICKETS: CALL 541-935-9711

June 10, 2013, 3:35 pm
REGGAE FESTIVAL (Seattle, Wa)
Norma Fraser will be performing at the 2013 Seattle Reggae Fests July 2013!!!.

June 10, 2013, 3:28 pm
SUMMER SOLTICE CELEBRATION
Annual celebration featuring vocal talent Norma Fraser, fire dancers and local food carts!

WHO: Norma Fraser Jamaican reggae legend
WHAT:Summer Soltice Celebration
WHERE:Sweet Cheeks Winery
27007 Briggs Hill Road
Veneta, OR
WHEN: Saturday June 22nd 2013
TIME: 7:00 PM - 11:00 PM
COVER: $18
June 10, 2013, 3:25 pm
2012 Awards
2012 AWARDS!!!.

WOW HALL 2012 AWARDS!.

NORMA FRASER

FAVORITE FEMALE PERFORMER!.
July 13, 2012, 8:48 am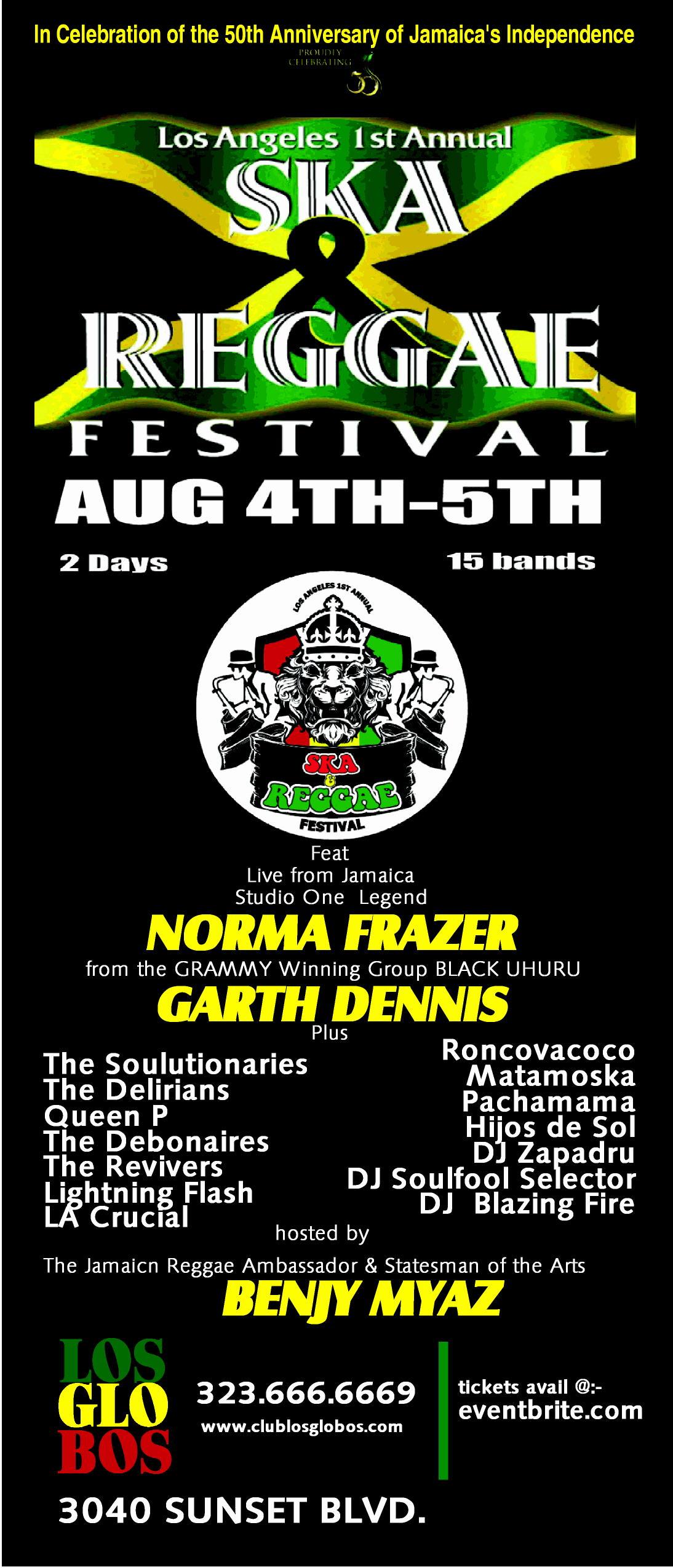 July 12, 2012, 9:02 am
JAMAICA 50TH LOS ANGELES CELEBRATION
Press Release
In Celebration of Jamaica's 50th Independence Celebration SKAmania will be triumphantly hosting Los Angeles First Annual SKA & REGGAE Festival,
Saturday & Sunday, August 4 & 5 2012
Los Globos Night Club located at 3040 Sunset Blvd., Los Angeles California 90026
This event will feature some of Jamaica's legendary performers along with over 15 bands.
About JAMAICA'S Independence 50th Anniversary
Jamaica though fundamentally remained a member of the Commonwealth of Nations has been an independent nation for 50 years. This feat was achieved on August 6th 1962. It was also a year or two prior that the amazing and unconquerable spirit of the artists and musicians joined forces and gave birth to the renowned art form Ska. In later years 1966-1968 the creative and innovative drive of those same Jamaican musicians fashioned the short lived Rocksteady, that later evolved into Reggae which has since captured the imagination of people around the world.
This year's memorable Golden Jubilee is truly a significant milestone in Jamaica's growth and development. Jamaicans at home and abroad along with Jamaican music lovers are celebrating the 50th anniversary in varied forms and believe me, Southern California is no exception.
Case in point, the First Annual LA Ska & Reggae Festival will feature 15 remarkable and exciting bands including Jamaica's legendary performers
Norma "the phenomenal Studio One Queen" Frazer, who recorded such mega-hits as "The First Cut", "Heartaches" and "Ten Commandments Of a Woman", backed by the superb Delirians.
Garth Dennis formerly of "Black Uhuru and Wailing Souls will sing his signature "Slow Coach", "Word Sound", and "For the Love of Money".
Additionally, a splendid array of SKA, Rocksteady and Reggae artist and bands from all across the Southland will be paying homage to the Music of Jamaica. Artists such as -The Delirians, The Soulutionaries, Queen P, The Debonaires, The Revivers, Lightening Flash, LA Crucial, Rancovacoco, Matamoska, Pachamama, Hijos de Sol.
Soulfool Selector, DJ Zapadru, and DJ Blazing Fire will be the featured DJs.
Additional acts will be added.
This spectacular event will be hosted by the talented singer songwriter, musician, and BENJY MYAZ, Jamaica's Statesman of the Arts and Reggae Ambassador.
This event is produce by the organizers of SKAmania, a monthly showcase of SKA and Rocksteady music artist and performers, both legendary and new-school.
Los Globos Night Club/ rubAdub Reggae Lounge has been the hub for these events and is located at 3040 Sunset Blvd., Los Angeles (Silver Lake Area), California.
Doors at 6PM~ 18 and over are welcome.
Early advance tickets are in limited quantities for $10 ~at
www.laskareggaefest-eac2.eventbrite.com/
more details at 323-666-6669
For media contact: reggaepress@gmail.com .
www.facebook.com/reggaepress
www.twitter.com/reggaepress
June 7, 2012, 7:34 am
ANNUAL SUMMER SOLSTICE MUSIC EVENT
The annual Summer Solstice event returns in 2012 with live music
featuring the legendary musical talent of NORMA FRASER; Fire Dancers
and fabulous wines.

VENUE: Sweet Cheeks Winery
ADDRESS: 27007 Briggs Hill Road
Eugene, OR. 97405
DATE: JUNE 21ST
TIME: 7:00 PM

TICKETS: $18:00
$14.40 FOR WINE CLUB MEMBERS

BUY TICKETS ONLINE: sweetcheekswinery.com
March 22, 2012, 10:22 am
The Ladies of Ska with the Skatalites featuring NORMA FRASER
https://www.facebook.com/events/362858850404979/
March 22, 2012, 10:11 am
Norma Fraser/Skatalites Japan Re-Issue
It is possible that the late great Coxsone Dodd had personal reasons for doing so, but despite the legendary status of this tune among Ska connoisseurs, Freedom Sound has never once seen release on 7 inch – until now. The players and tune itself hardly need any introduction, except to say that even among the Skatalite's enormous output, there are very few tracks that feature performances with quite the same awesome power. The lack of trombone melody suggests that this might have been recorded during one of Don Drummond's stints at Bellevue mental asylum. Despite his absence, however, this is a Ska instrumental that is rivaled by few others. The flip side is a lovely up tempo Ska tune from Norma Fraser, who is best known for her hit version of the First Cut is the Deepest, also recorded for Coxsone Dodd.
http://www.rock-a-shacka.com/release/vinyl_e.htm
March 13, 2012, 3:31 pm
THE ECHOES OF KINGSTON SKATALITES TOUR 2012
THE SKATALITES AND JAMAICAN REGGAE LEGEND NORMA FRASER ARE
HEADLINING THE 2ND ANNUAL ECHOES OF KINGSTON TOUR.
THE TOUR WILL START IN HOUSTON, TEXAS ON FRIDAY MARCH 30 THEN HEAD TO STOPS IN COLORADO, NEW MEXICO, ARIZONA, MEXICO, CALIFORNIA, KINGSTON, WASHINGTON, OREGON, CANADA, LAS VEGAS AND END IN EUROPE.

DON'T MISS THIS ONCE IN A LIFE TIME MUSICAL COLLABORATION:

"NORMA FRASER" AND "THE SKATALITES"

JAMAICA'S ORIGINATOR OF THE SKA AND JAMAICA'S REGGAE QUEEN!.
March 13, 2012, 3:18 pm
VALIDATE!. CELEBRATE! APRIL 6 2012
VALIDATE! CELEBRATE! DANCE TO THE MUSIC!

DATE: APRIL 6 2012

EVENT: BREAKING THE SOUND BARRIER FOR THE DISABLED!!!.

VENUE: COZMIC PIZZA
EUGENE, OR.

TIME: 5:30 PM UNTIL??????!!!.

MUSIC: NORMA FRASER AND HER REGGAE BAND.

COME AND CELEBRATE WITH US!!!.
November 27, 2011, 2:25 pm
NEW YEAR'S EVE REGGAE SHOW DEC. 31 2011!!!.
RING IN NEW YEAR'S EVE WITH ROOTS REGGAE REVELRY!.
NORMA FRASER - REGGAE LEGEND
MAC'S RESTAURANT AND NIGHTCLUB BALLROOM!.
1626 WILLAMETTE STREET
EUGENE, OREGON
DEC. 31ST 2011
9:00 PM - 1:00 A.M.
541-344-8600
"TICKETS ON SALE NOW" ...... CALL 541-344-8600
TICKETS $18 DAY OF EVENT
$ 15 EARLY BIRD PURCHASE
January 12, 2010, 5:07 pm
Norma Fraser @ Bob Marley B'day Bash!!!!.
October 26, 2009, 12:11 pm
SKINS (UK) TV SHOW 2009
Norma Fraser's "The First Cut is The Deepest" track was featured in
SKINS (UK) TV SHOW. The show was nominated for
Best Drama Series in the British Academy Television Awards 2008
and other distinguished awards.
MTV will adapt SKINS to American television soon.
A novel and a movie spin-off of Skins in 2010.
CONGRATULATIONS, NORMA!!!.
June 22, 2009, 7:48 am
WOODSTOCK!!!.
NORMA FRASER WILL BE PERFORMING AT THE LEGENDARY "WOODSTOCK" IN JULY.
WATCH FOR DETAILS!!!.
June 22, 2009, 7:47 am
SUMMER SOLTICE SHOW - 6/21/09
THANKS TO ALL OF THE MANY, MANY FANS WHO TURNED OUT TO
A SOLD OUT SHOW AT SWEET CHEEKS WINERY TO HEAR NORMA FRASER ON
JUNE 21ST..THE SHOW WAS A BIG SUCCESS.
THANKS AGAIN!!!!.
March 16, 2009, 1:00 pm
NEW REGGAE COMPILATION RELEASE!!!.
IRIE REGGAE: - 76 MINUTES OF EXCITING NEW REGGAE MUSIC!!!.
- FEATURING NORMA FRASER; TURBULENCE;
SIZZLA; ANTHONY B; BUSHMAN; LUCIANO;
HALF PINT; GLEN WASHINGTON;
GREGORY ISAACS; TANYA STEVENS;
KING KONG AND MANY MORE.

LABEL: HAMMER-MUSIK
GERMANY

March 16, 2009, 12:48 pm
NEW RELEASES - VP RECORDS 2009
REGGAE ANTHOLOGY: Randy's 50th Anniversary brings together
50 of the studio's greatest productions
organized by an era and features
musical icons like Bob Marley and the
Wailers, Peter Tosh, Toots & The Maytals,
Norma Fraser, Lord Creator & Norma Fraser,
Dennis Brown, The Skatalites and more.
Extended liner notes and a 40 minute DVD.
March 16, 2009, 12:35 pm
NEW CD !!!!!
July 26, 2008, 9:29 am
MUSICAL PROJECTS
NEED ENTERTAINERS FOR YOUR MUSICAL PROJECTS
CONTACT US FOR MORE INFORMATION!!!.
July 26, 2008, 9:25 am
DUBPLATES
DUBPLATES VOICED ON ORIGINAL "STUDIO ONE" RIDDIMS.
CONTACT THIS WEBSITE FOR MORE INFORMATION!!!.
May 30, 2008, 5:00 pm
Get Paid to Download My Music!.
Hi Friends,
We just started selling our music on AmieStreet.com, and to kick
things off they are giving our fans $5 to download our music.
All you have to do is click on the link below to get $5 to download
our music or songs from tens of thousands of other great independent
artists.
Just click the link below and you'll be all set!
http://amiestreet.com/_l/cdbaby
Best,
Norma
May 3, 2008, 8:21 am
EUGENE TRACK & FIELD CONCERT SERIES
Venue: Red Lion Inn
Date: July 5th 2008
Time: 8:00 pm

Norma will be backed by Jerry Zyback's wonderful band.
May 3, 2008, 8:18 am
SUMMER SOLTICE CONCERT
Norma will headline summer soltice concert!.
Venue: Sweet Cheeks Winery
Veneta, OR.
Date: June 21st 2008
Time: 7-10 pm
May 3, 2008, 8:14 am
CUTHBERT CONCERT
Norma and her fabulous band featuring Byron Case, Skip Jones, Bill Shreve, Theo Halpert, Brooks Barnett and backup singers including Laurie Shreve will be appearing at the Cuthbert MAY 17th. 2008!.
April 14, 2008, 12:40 am
MY SPACE MUSIC NEWS - MUSICIANS WHAT'S UP!!!.
MYSPACE TO LAUNCH NEW MUSIC SERVICE
MySpace said it will launch an online music venture designed to turn the social networking site's trove of musician profile pages into portals for selling everything from concert tickets and band merchandise to the music itself.

Vivendi SA's Universal Music Group, Sony BMG Music Entertainment and Warner Music Group Corp. are participating in the new venture, dubbed MySpace Music, which will roll out gradually in coming months
April 11, 2008, 3:37 pm
Death of Bob Marleys' Mother
Cedella Marley, Bob Marley's mother died 4/9/08!!!!. May she rest in Peace!!!.

R.I.P. Cedella Marley Booker - -[ REGGAE RISING ]- - tribe.net
February 18, 2008, 6:23 pm
HAPPY VALENTINE'S DAY
HAPPY VALENTINE'S TO ALL OF MY BEAUTIFUL FANS!!!!.
one love!.
October 26, 2007, 4:27 pm
SOUTHERN CALIFORNIA TOUR
EVENT: SOUTHERN CALIFORNIA TOUR
WITH THE BEST
BOB MARLEY TRIBUTE BAND
"ONE DROP REDEMPTION" BAND

DATE: OCTOBER 30TH - NOV. 2007

NORMA FRASER WILL BE TOURING SOUTHERN CALIFORNIA WITH THE BEST REGGAE BAND IN CALIFORNIA.... ALL OF HER FANS HAVE BEEN ANXIOUSLY AWAITING THIS ONE- IN -A- LIFE -TIME -EVENT.

COME AND GREET HER IN PERSON!!!.
August 4, 2007, 10:34 am
JAMAICA MUSIC VINTAGE FESTIVAL
2nd ANNUAL JAMAICA VINTAGE MUSIC FESTIVAL
ERNIE SMITH; PAT KELLY; THE SKATALITES;
RUSSELL THOMPKINS, JR.& THE NEW STYLISTICS;
NORMA FRASER; COCOA TEA; MIGHTY DIAMONDS;
FAB 5; CHARLIE CHAPLIN AND MANY MORE ARTISTS.

DATE: OCTOBER 20th 2007 IN FLORIDA!!!.
August 4, 2007, 10:32 am
REGGAE DIVAS AWARD SHOW
EVENT: REGGAE DIVAS AWARD SHOW
CITY: NEW YORK, N.Y.
DATE: OCTOBER 7th 2007

NORMA FRASER; DAWN PENN; J.C. LODGE; MARCIA GRIFFITHS WILL BE HONORED FOR THEIR OUTSTANDING ACHIEVEMENTS IN REGGAE MUSIC.
MORE INFO WILL BE POSTED SOON.
August 4, 2007, 10:29 am
SERBIA & ITALY TOURS
TOURS: REGGAE TOURS TO SERBIA; ITALY
DATE: SEPTEMBER 15th 2007
August 4, 2007, 10:25 am
BLUES FESTIVAL
EVENT: BLUES FESTIVAL
DATE: AUGUST 25th 2007
VENUE: SECRET HOUSE
EUGENE, OR.
ARTISTS: NORMA FRASER; DEB CLEVELAND AND MANY OTHER
NATIONAL ACTS.
July 16, 2007, 4:07 pm
FIREHOUSE FESTIVAL
HEADLINER: NORMA FRASER
EVENT: FIREHOUSE BBQ COOKOUT FESTIVAL
DATE: AUGUST 18th 2007
VENUE: WOODBURN, OR.
January 3, 2007, 7:43 pm
QUACKER'S LAST STOP CONCERT
MANY THANKS TO ALL THE WONDERFUL FANS WHO
CAME AND SUPPORTED NORMA AT HER QUACKERS SHOW.
WE HAD A BIG TURN OUT!!!
THANKS AS ALWAYS.
January 3, 2007, 7:32 pm
NEW CD RELEASE!!! GYFTT REDCORDS!
NORMA FRASER: "ONE MORE CHANCE"
IN STORES NOW!!!!
REGGAE!! POWER POP!! ROCK!! R&BFUSION!!

AVAILABLE AT THE FOLLOWING STORES:
CD GAME EXCHANGE - 306 11th ST.
CD WORLD - 3215 W. 11th ST.
HOUSE OF RECORDS - 258 E. 13th ST.
CD BABY - 1-800-Buy-My-CD
November 28, 2006, 2:58 pm
"GRRRLZ ROCK" CONCERTS
GRRRLZ ROCK concert series ended on a high note.!. (NOV. 2006).
All venues were sold out and well attended.
The Women Musicians were top-class and showed that they can
play, perform, entertain and rock with the best of them.

Thanks Eugene for your support!!!!.

Kudos to Cindy Ingram..Let's do an enchore in 2007!!!!
October 23, 2006, 2:13 pm
BEST OF EUGENE AWARD
NORMA FRASER
Received Eugene Weekly's
BEST OF EUGENE AWARD FOR
"BEST LOCAL REGGAE/WORLD PERFORMER"
2006-2007

CONGRATULATIONS!!!! CONGRATULATIONS!!!!
October 7, 2006, 3:44 pm
TOUR IN CANADA 2007
The Tour in Canada was very successful. Thanks to all the wonderful fans who turned out and supported these events... showing their love for REGGAE MUSIC!!!!.
October 1, 2006, 5:15 pm
FEATURED ARTIST ON RADIO RADIO204
NORMA FRASER is FEATURED ARTIST ON RADIO 204
Check it out!!! Fantastic News!!!!
OCOBER 1 2006
September 27, 2006, 4:20 pm
TOP TEN CHART
Norma's song "DREAMS COME TRUE" made the top ten list on "Fame Game Radio" in Brazil.
September 24, 2006, 4:13 pm
NEW CD !!!!!